SCHIZO vs. CO2 – Total Insanity split 7″ out for RIPPING STORM RECORDS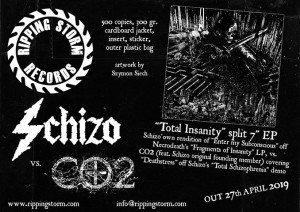 RS12 – SCHIZO / CAMERA OBSCURA TWO – Total insanity split 7″ EP

This split is a celebration of the history of Italian extreme metal underground. Veterans SCHIZO cover "Enter my Subconscious" from NECRODEATH 1989 second album "Fragments of insanity". CO2, featuring Alberto Penzin (ex-SCHIZO), cover "Deathstress" from SCHIZO 1987 "Total Schizophrenia" Demo. And so the circle is complete… 500 copies on black vinyl, 300 gr. cardboard jacket, insert, sticker.
Out 27th aprile 2019 for Ripping Storm Records.