SCHIZO – "Delayed Death – 1984/1989 The Years Of Collapse" Double CD on FOAD Records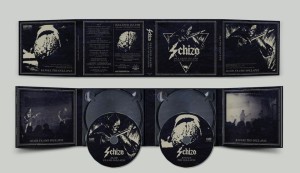 Ultra fucking FAST Sicilian Thrash-core assault!! The most exhaustive SCHIZO early days' collection you can dream about. A deluxe Double CD set compiling the following:
CD 1 – "Main frame collapse" album (1989)
CD 2 –  "Before the collapse 1985-1987" Demo collection consisting of:  "MFC" Demo (1987) / "Total Schizophrenia" Demo (1986) / "Thrash the unthrashable, thrash to kill" Demo (1985) / Bonus rehearsals (1985)
31 songs of what was with no doubt one of the most deranged, fast and original Extreme Metal acts in the Italian scene of the '80s.  If you also count in the early stuff by their brothers-in-mayhem Necrodeath, these were the first examples of hyper-speed driven thrashin' Death Metal from Italy, that in more simple words equals "the first blast beats to ever land on the Italian Metal territories". All these treasures mastered from the best sounding 1st generation sources provided and approved by the band.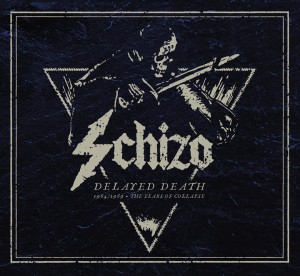 This monsterwork portrays in the most effective way the band's evolution from their nihilistic thrashing Hardcore roots to the sadistic nerve ripping sonic torment of their "Total schizophrenia" Demo (mentioned by Max Cavalera as one of the reasons why he choose "Schizophrenia" as title for Sepultura's 2nd masterpiece) to their absolute cult debut "Main Frame Collapse". Fans of ultra fast blasting Thrash a la Wehrmacht, early Sadus, Merciless, Sarcofago… this is a must have!  Housed in a 8 panel digipack including two booklets for a total of 40 pages full of rare photos, flyers, scans of the original tapes and lyrics!  Watch the trailer HERE