RAW POWER – Inferno OUT NOW!
Italian hardcore punk act Raw Power are proud to present "Inferno", a brand new album out now in Italy for IndieBox Music and on the 9th of june worldwide via Demons Run Amok Entertainment. The cover artwork is realized by Vince Packard as for "Screams from the Gutter" and "After Your Brain".
Tracklist:
Look The Other Way
You Don't Know Your Enemy
Inferno
All It Takes Its One Minute
How Many Bands
Sono Morto
I Lost My Patience
Mean Machine
The Jurassic Hounds
Amici
Dedico Queste Righe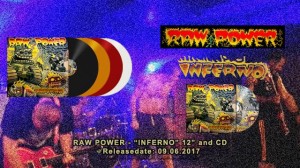 Prison
You Were Right
Harassment
La Paura
Demons Run Amok Entertainment will also release the vinyl edition (500 black vinyl, 200 orange vinyl, 200 white vinyl and 100 red vinyl) and a brand new t-shirt.
The title track is available in streaming: