JESTER BEAST – the lost tapes of… Poetical Freakscream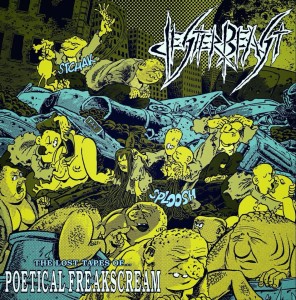 One of the most overlooked Italian Thrash gems of all times finally coming back to light in a completely refreshed edition, mastered from a recently found tape with an early stage (unreleased) mix powered by an extra guitar track recorded back then by the riff genius known as CC Muz. JESTER BEAST started in Torino, Northern Italy in 1983 as a Power/Speed Metal act and progressively changed paths improving their style into crazily fast Thrashcore combining the lesson of Italy's furious 80s HC with their Thrash made of speeded Voivod-esque riffs and some Slayer influenced breakneck rhytmic solutions. Their 1988 demotape was so fucking great that captured the attention of Nuclear Blast Records, that included 3 tracks from it on the classic "Pleasures in life" 3xLP compilation.
This ultimate release includes the complete "lost tape" of Poetical Freakscream (that originally came out in 1991 with a much weaker sound) and a bonus CD with the album + their cult demo 1988 (hands down among the top 5 best Italian Thrash Demos ever) + a never-heard-before soundboard live from 1988 including several unreleased songs. As with all FOAD releases, you'll find a manic care in sound mastering and a wonderful packaging consisting of a gatefold jacket, CD in cardboard sleeve and a 12 page booklet full or rare photos, excerpts from magazines and flyers.
From the LP liner notes: "A different version/mix of Poetical Freakscream was originally released in 1991 by GLC Records. Following the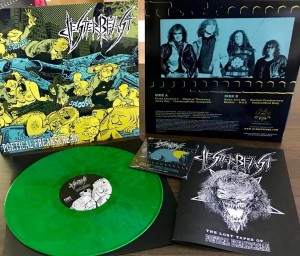 common taste of the time, it was decided to mix the album leaning towards a more "grungy" edge hiding a guitar track and some other relevant features. This left a shadow of unsatisfaction between the band members in the years to follow. Luckily, a pre-mixed version with all the guitar tracks in full evidence survived in the archives of the riff monster CC Muz." The process of restoring and remastering it was quite complicated because some parts were damaged, suffering of bad storing conditions. What you're going to listen here is the end result of an accurate work made with dedication and love, approved by the band and finally giving justice to what we repute one of the most under rated Metal records in the Italian underground history. If "Destroy After Use" proudly stands among the top 5 best Thrash Italian Demos ever, now you can finally enjoy "Poetical Freakscream" with that same dose of impact, aggression and riffing perfection!
Available in 2 different versions:
Die-hard edition in swirl green vinyl limited to 100 copies
Solid black vinyl limited to 200 copies