F.O.A.D. Records – RAW POWER "You are the victim / God's course" gatefold LP and NERORGASMO "Passione nera 1985-1993" 2xLP discography (re-release) … out NOW!!
F.O.A.D. Records is ending the summer with two timeless Italian Hardcore/Punk classics: Poviglio's legendary HC heroes RAW POWER and Torino's blackened Punk nihilists NERORGASMO. Most preorders have been sent already and the last batch will be mailed before the end of the week. The ltd. mailorder editions on colored vinyl are almost finished, if you still want to get it we strongly suggest to act fast. So, RAW POWER "You are the victim / God's course" gatefold LP and NERORGASMO "Passione nera 1985-1993" 2xLP Gatefold + book are both OUT NOW!!
So more in detail about each release: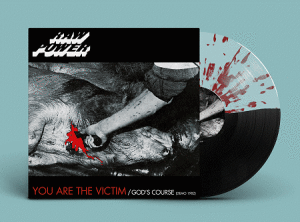 RAW POWER "You are the victim / God's course" gatefold LP (F.O.A.D. 044/LP)
Official re-release on LP of the well received digipack CD edition that came out on FOAD 3 years ago. R.P.'s first legendary 12″ "You are the victim" (1983) back on vinyl in a top quality edition after many years, enriched by an incredible extra feature: the completely unknown and unreleased "God's course" demo 1982 that we recently found in TVOR's archives, recorded even before Mauro Codeluppi joined the band, and seeing his brother Giuseppe and Silvio trading vocal duties delivering embryonic versions of their early anthems. "You are the victim" has been transferred from the original reels and remastered for the best sounding result ever, still maintaining the raw and energetic impact these Italian HC masters are well known for.
Highly influential Hardcore at its top, fast blistering drums, inhuman 6 string execution and rabid vocals plus the screaming mad assault of "Fuck authority", "Raw power" and "Don't let me see it" that gave a vital input to tons of speed/HC maniacs that came in the years to follow. The first Italian HC band that toured the USA and brought Italian Hardcore on the international maps. Deluxe gatefold sleeve filled with early day photos, flyers and rare inserts.
Available in 2 different versions:
Die-hard edition strictly limited to 100 copies in half black half ultra-clear vinyl with blood red splattering on the transparent half
Regular Black vinyl limited to 400 copies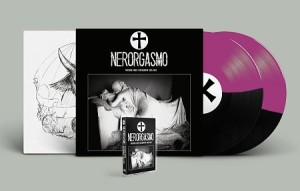 NERORGASMO "Passione Nera" gatefold 2xLP + book (F.O.A.D. 046 – 2nd edition)
2nd pressing of this timeless Italian Punk masterpiece, housed in a stunning deluxe gatefold sleeve including a 12″x12″ book filled with never-seen-before drawings by Luca Abort, plus photos, liner notes and lyrics, this is easily among the most elegant and high quality packaging ever made for an Italian HC/Punk band on vinyl. One of the most essential discography releases in the whole history of Italian Punk, finally seeing the light after years of hard strains and endless stalemates. NERORGASMO, the blackest and most sincere face of Torino's Dark/Punk nihilism in the '80s and early '90s, the true sound of urban decadence in the city that generated some of the most active and creative Punk/HC acts back in the "furious years" of Italian hardcore (think of NEGAZIONE, DECLINO, 5# BRACCIO, KOLLETTIVO etc). This double LP is a complete collection of their recorded material, 44 songs (5 more than the previous CD/DVD on FOAD), including their first legendary EP remastered from a 1st generation tape before it was pressed on vinyl (so you won't hear any old vinyl crackles), the 1993 album remastered from the studio DAT, 9 completely UNRELEASED studio tracks (1987) and a great selection of live footage 1986-1993.
Musically, this was a unique brand of blackened HC/Punk the Italian way crossed with some sinister Dark/Rock influences and the incredibly expressive vocals of Luca Abort (RIP) mixing rage with his sick sarcastic moods. Check the review on GoodBadMusic: "Italy's NERORGASMO (translates as "Black Orgasm" – wonderful!) released one of the darkest and most original sounding records of the 80s. Backwards message, weird sounds and ultra evil, CCM-like riffing, creating a sickly sweet atmosphere of lascivious cross-downturning. Just the way we love it so much! What is anarchy and subversion if there's not some good old satanism involved."
Available in 2 different versions:
Die-hard edition strictly limited to 100 copies in half black half purple vinyl with a bonus discography tape pro-copied on dark violet cassettes with 10 panel J-card
Regular Black vinyl limited to 400 copies