F.O.A.D. Records – RAW POWER "Wop hour – Extended version"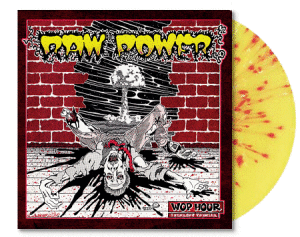 Italy's undisputed godfathers of furious Hardcore since 1981 team up again with F.O.A.D. Records to unearth another classic from their 80s discography enriched with a hailstorm of bonus gems! This LP includes their insane "Wop Hour" EP (1985) an adrenalinic assault of rapid thrashing HC delivered with ballistic tightness… plus an incredible selection of bonus tracks, part of which were never heard before.
You'll find all the bonus songs that were already included in the extended CD version and two unreleased soundboard live rippers: Fiorenzuola 1984 and Amsterdam 1986. The first – still with Giuseppe on vocals – sees these maniacs smashing the stage with a devastating set including a totally unreleased song ("Police Harassment"), some rare ones from their first demo '83 and covers of BLACK FLAG and DISCHARGE (!!), the second – taking the whole B-side of the LP – is just RAW POWER at the top of their game, "Screams from the gutter" setlist and that invincible line-up with Helder on drums with all the hits that you want to hear with a powerful and aggressive sound. 26 SONGS IN TOTAL. Comes with a 8 page booklet with rare photos, flyers and zine excerpts from the mid 80s. Get ready to blast this at top volume and scream "Fuck authority"!!
Available in two different versions:
DIEHARD YELLOW VINYL WITH OXBLOOD RED SPLATTERING LIMITED TO 100 COPIES
SOLID BLACK VINYL LIMITED TO 400