EXTREMA -"Tension At The Seams" 30th anniversary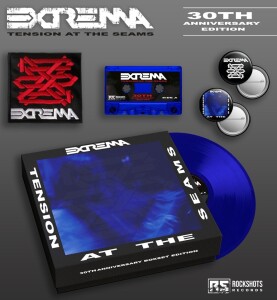 In 1993, thrashers EXTREMA released the album "Tension At The Seams" setting a new standard of quality never before achieved by an Italian metal band, both in terms of songwriting and arrangements, as well as production and units sold.
The album represented a true turning point for the band's future, as it's their pinnacle record for what would come in the following years from this visionary album. After the record's release, they became one of the most sought-after bands across the country and went on performing hundreds of concerts along with sharing the stage with giants like Metallica, Megadeth, Slayer, Motorhead, and many more!
Fast forward to 2023, Extrema is excited to celebrate the
30th anniversary of "Tension At The Seams"
, with an exclusive boxset edition that will be available for purchase on
Rockshots Records
. The 30th-anniversary edition is remastered from the original tapes and available in three formats: Vinyl Blue edition, cassette, and digital download.
In addition to the album, the boxset includes a rich and exclusive storybook with unpublished photos, memorabilia, articles, and notes from industry insiders close to the band at the time of the album's release. To complete the circle, there is a never-before-published photo of the original lineup, two big pins with the legendary band logo and album cover, a patch, and a sticker.
In additional news, on Friday, October 6, on the occasion of the thirtieth anniversary,
Tsunami Edizioni
will release the
official biography "Un Fottuto Massacro Collettivo"
(A Fucking Collective Massacre), written by Max Villa with contributions from Enrico Salvini (Extrema's longtime manager) former members, and many industry professionals.
Those lucky enough to have known Extrema since the time of "Tension…" are well aware that the band has written many important chapters of Italian-made metal. That's why the iconic Tsunami Edizioni also wanted to be part of this celebration, dedicating a book to EXTREMA that could closely recount the details – even the uncomfortable ones – of a story that deserved to be told.
The book will also be available during the band's special 30th Anniversary concert on October 7th, which will also see the return of guitarist Marco Cassone (Fuzz Fuzz Machine, Cowboys From Hell) to complete the quintet's lineup.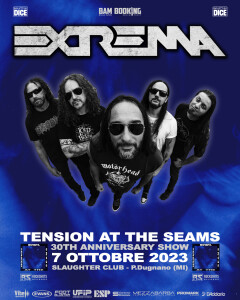 TENSION AT THE SEAMS 30th
ANNIVERSARY SHOW
will be held on Saturday, October 7, 2023, at
Slaughter Club
in Paderno Dugnano (MI). It will be a special event where Extrema will treat the fans to a lethal set list, featuring a large portion of tracks from their debut masterpiece, some of which have been absent from their shows for over twenty years, along with the most representative killer tracks of their incredible career.
SATURDAY, OCTOBER 7, 2023
EXTREMA | TENSION AT THE SEAMS 30th ANNIVERSARY SHOW
Slaughter Club, Paderno Dugnano (MI)