BULLDOZER – "Ride hard – die fast" 7xLP Boxset… on FOAD Records!!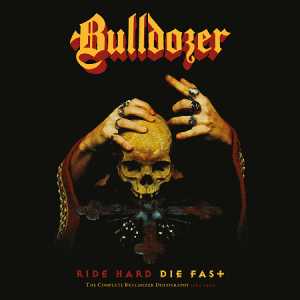 Here we are! This month marks our return full steam ahead on vinyl production for what's going to be a very busy season with many bone-crushing releases, barring other unforeseen and unexpected interruptions. And we get back on track with a little-great personal best… because what we are about to announce is the most gigantic F.O.A.D. release to date, both in terms of number of records included and weight… 3.2 Kg! It's now been 8 years since our blood pact with this band was drawn, we started by bringing to light the lost in vaults demo 1984 "The exorcism", and over time we reissued a good part of their discography. You got it, we are talking about BULLDOZER, a timeless myth in the firmament of wickest Italian Metal! And what we are about to release consecrates our bond with this band and comes as the definitive chapter of our partnership with them. We are pleased to announce "Ride hard – Die fast", a boxset containing no less than 7xLPs (!!) and a huge booklet, the most complete and maniacal anthology covering the time frame that starts from the above mentioned demo and "Fallen angel" 7″ (1984) to 1990, the year when "Alive… in Poland" was first published.
It took a long time to put this beast together and we've put all our enthusiasm and dedication on it. So, preorders for BULLDOZER "Ride hard – Die fast" Boxset are up NOW!! The diehard edition limited to 100 comes with a 9″ high stainless steel inverted cross with engraved Bulldozer's logo and has each LP on a special super-marble color setting. Don't sleep on it because it's expected to sell out very quick! Furthermore, pay attention to the fact that we are also putting the test pressing in pre-order, it comes in a special customized box, hand-numbered… at the moment there are less than 15 left counting those going to the band and those reserved by close friends.
The complete Bulldozer discography 1984-1990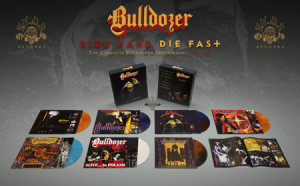 "Ride hard – Die fast" is the ultimate, most exhaustive 80's discography of the absolute Italian Metal legend… BULLDOZER! From the early Venom/Motörhead obsessed blackened Metal classics to the smashing Thrash power of "IX" and "Neurodeliri". Each album has been sourced from the band's reels and tapes and specially mastered for vinyl at Toxic Basement Studio for the best sounding sonic assault you can dream of. For the first time, "Alive…. in Poland" includes the complete show with 3 more songs than the original version released in 1990. And as special bonus, the 7th LP is an outrageous compilation of worldwide heavyweights paying tribute to Bulldozer by covering some of their anthems: Abigail, Sabbat, Toxic Holocaust, Cripple Bastards, Decayed, Frostmoon EclIpse, Witchburner and more!! Each record is on 180 gram vinyl with printed inner sleeve. This monsterwork also includes a massive full-colored booklet collecting rare photos, flyers, excerpts from old mags, fanzines and more. All served into a thick casewrapped boxset printed outside and inside. Watch the trailer HERE
LP 1 –  "The exorcism (demo) + Fallen angel EP"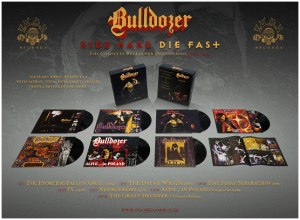 LP 2 – "The day of wrath"
LP 3 – "The final separation"
LP 4 – "IX"
LP 5 – "Neurodeliri"
LP 6 – "Alive in Poland" (complete set with extra songs never released on vinyl up to now!!)
LP 7 – "The great deceiver – A tribute to Bulldozer" LP
(Bulldozer covers by… ABIGAIL, TOXIC HOLOCAUST, SABBAT, WITCHBURNER, CRIPPLE BASTARDS, DECAYED, FROSTMOON ECLYPSE, IMPERIAL, MEADS OF ASPHODEL)
Available versions:
Diehard edition limited to 100 with 7xLPS each on a different super-marble color setting + 9″ high stainless steel inverted cross with engraved Bulldozer's logo + booklet
Black vinyl version limited to 300 copies (7xLPS on 180 gram vinyl + massive booklet)
Test pressing (case-wrapped white box with stickers, hand-numbered)